Cool Helmet Airbrushing Concepts in Westchester and Rockland, New York and New Jersey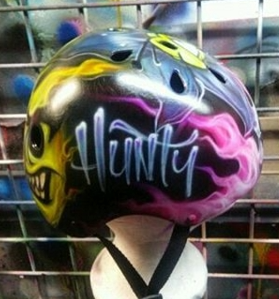 One of the most popular trends in airbrushing today is motorcycle helmet design. With motorcycle helmets you get the benefit of creating a totally unique design that matches your motorcycle in a cohesive fashion that allows you stand out in the crowd. At Airbrush Everything, we specialize in airbrushing motorcycle helmets of all types both old and new. If you have an idea in mind, we can take your vision and bring it to life on any part of your motorcycle helmet. Go wild with helmet airbrushing company from Airbrush Everything today!
Your Helmet, Your Way
With airbrushing design from Airbrush Everything the possibilities are endless. You can get a fully customizable helmet design to your exact specifications. One of the reasons why we are popular is our attention to every little detail. So tell us what you want and be as specific as possible and we will exceed your expectations every time. We take our time and are careful with each motorcycle helmet we work on. So whether you want a small logo for your business or you want a bold image across your entire helmets, we can accommodate all your needs.
Non-Toxic Safe Airbrushing Paint Products
Although motorcycle helmets are made from extremely tough material the surface is often coated for a smooth finish that is designed to be scratch and dent resistant. So when applying paint to the helmet, it's important to choose products that contain no chemicals. We use only the finest airbrush paint in the industry that is created to last without corroding or harming the fine surface of your motorcycle helmet. You get amazing results that last a long time while preserving the finish of your helmet.
We Are The Airbrush Helmet Experts
Airbrushing helmets is an extremely technical trade that requires the expertise of seasoned professionals. At Airbrush Everything, we pride ourselves in being able to deliver superior products at affordable rates that stay within your budget. Our artisans have decades of combined industry experience, and we know exactly what our clients want. You can get a beautifully designed helmet that you'll love for many years to come! Contact us today and see why we are the most trusted name in airbrush design.
Experienced Airbrushing Artists Providing Custom Designs
If you are looking for experienced airbrushing artists for motorcycles then please call 914-424-4264 (Justin) or complete our online request form.