Mindblowing Airbrush Body Paint in New York City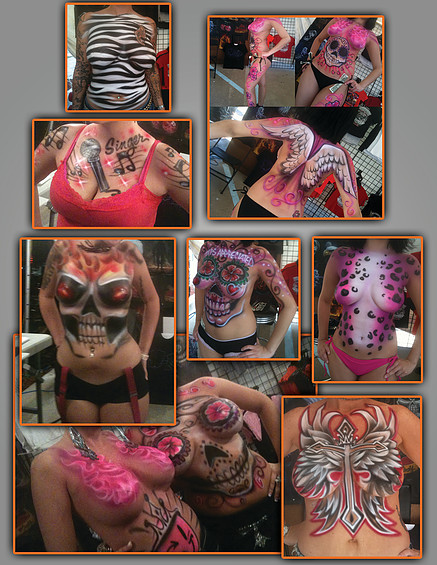 At Airbrush Everything, the name says it all. You can have personalized body art anywhere on your body within minutes and make a statement that is all your own. We do everything that ranges from targeted areas on your body all the to full body art from head to toe. No matter where you go people will instantly see your creative body concepts and be amazed! Our artisans are highly trained and skilled in professional body art. So no matter what type of design you want, you can get it with Airbrush Everything.
Body Art Is Great For Events and Parties
Kick your party into gear with great body painting from Airbrush Everything. We carry a full line of body paint with pre-formatted designs that suit any party or event. Whether you're celebrating your child's birthday party, or need a setup for your community event, we are there to provide all types of body paint feature and products that can be custom suited to your particular crowd. We do everything from basic face painting such as animals and stars all the way to elaborate designs that will amaze your guests!
Benefits of Airbrush Body Paint
The biggest difference between airbrushing and traditional painting methods is that there is no direct contact with the skin. The paint is applied directly to the body with no paintbrush or fingers. This means that there is no smudging that can occur. With direct application you can get the same type of detailing that comes with professional tattoos, but without the regret of having long-term art on your body. You can get as wild and crazy with your ideas as you want, and when you're ready to remove the paint, it will come off relatively easy.
Non-Toxic Safe Body Art For You
One of the greatest benefits of body art is that it is safe to the skin. It will not cause rashes or breakouts to occur, and it is completely hypoallergenic in any region of the body. We only use paint made from completely natural products with no harmful chemicals. You get quality products that are completely safe. If for any reason, however, you think you may be allergic to body paint, please consult your family doctor prior to having anything painted on your body.
Quality Airbrushing Every Time
With Airbrush Everything you get the benefit of working with seasoned experienced artists who have helped hundreds of clients across Westchester and Rockland, New York and New Jersey with all their airbrushing needs. There is no design to simple or complex that we can't paint onto your body. We perform every job with absolute precision and skill and take our time in order to create a work of art that you can be proud to show around town. We pride ourselves in fast, efficient service, quality work that you can depend on, and affordable rates that stay within your budget. Find out for yourself why we are New York's Number 1 Airbrush Paint Company!
Experienced Airbrushing Artists Providing Custom Designs
Airbrush Everything Airbrushing News
Tips For Making Your Airbrush Party Successful
The people of New York City love to party all day and all night. On any given day there are literally dozens of parties and social events up and down the city. What distinguishes one event from the other is quite simply what each party has to offer. Airbrushing has long time been a favorite party item.
How Airbrushing Can Enhance Your New York City Business
If you're a business owner in Westchester and Rockland, New York or Northern New Jersey, you know the value of quality presentation, good advertising, and effective promotion. With the right tools all of these strategies work well and keep customers coming through the door. Every square inch of your property is an
If you are looking for experienced airbrushing body paint artists then please call 914-424-4264 (Justin) or complete our online request form.