Your Rockland Airbrushing Pros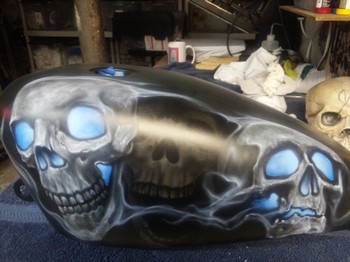 Do you want to add a personal touch to your home or vehicle? If you do, you need to call the Rockland airbrush artists at Airbrush Everything. We offer professional design and airbrush work that will help make your property stand out in the best way.
Wall art and murals
Car and truck airbrushing
Helmet air brushing
We offer these services and more to help make your property look its absolute best. We make it our mission to provide nothing but the best work, guaranteed. For that reason, you can't do any better than our Rockland team when it comes to your airbrushing needs.
Professional Mural Airbrush Services You'll Love
For any business owner, standing out is everything. After all, customers are more likely to use your business if you can distinguish yourself from the competition. While it's necessary to make your services and prices stand out, it's just as important to make your place of business as unique and eye-catching.
If you're looking for a way to make your Rockland business stand out, why not call us for a professional airbrushing? We can design a one-of-a-kind look that will both catch eyes and give a good, clear idea of the kind of business you're running.
Professional Automotive Airbrushing in Rockland
Your vehicle is as much a part of your personality as it is a means for you to get from point A to point B. So, you can't go wrong by giving your vehicle a personal touch. If you're looking for a way to make your vehicle stand out from the crowd, just give our Rockland team a call.
We offer beautiful, professionally done automotive airbrushing services that will make your vehicle look just as unique as you are. We will work with you to come up with a design that is beautiful and, most of all, perfectly suited to your personality.
Experienced Airbrushing Artists Providing Custom Designs
If you are looking for experienced airbrushing artists in Rockland, then please call 914-424-4264 (Justin) or complete our online request form.