Window Painting - Airbrush Everything
What We Do For Window Painting & Airbrushed Holiday Windows: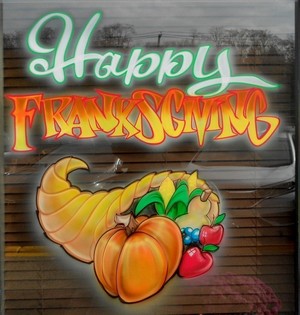 We paint attractive temporary holiday window displays to beautify your businesses and promote sales.
Our window painters use an acrylic rubberized water-based paint for easy removal.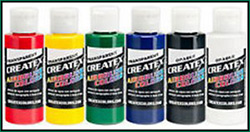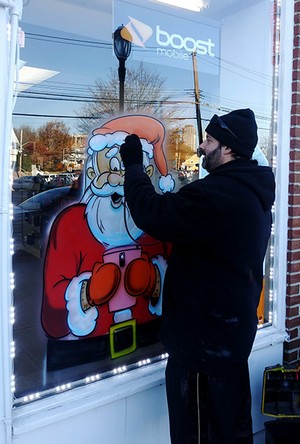 Our airbrushed window painting will attract customers and create a local buzz for your business.
Airbrushed windows are perfect to attract customers to your restaurant or other eating establishment.
For Christmas and Chanukah season, we only paint windows in the NY and NJ areas. We create custom designs that are usually geared toward your business.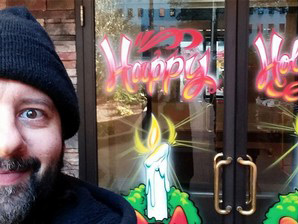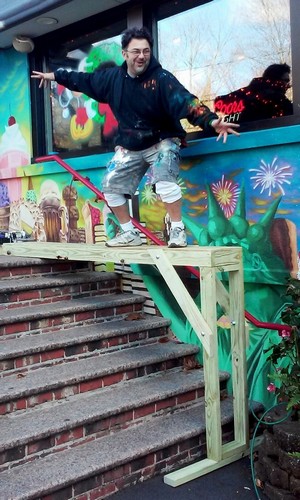 Our mainstream clients include Massage Envy, Dunkin Donuts, Boost Mobile stores, Smash Burger, and more. For example, we airbrush a snowboarding snowman taking a selfie with happy holidays written on the door of Boost Mobile stores. Our window painters are adept at both traditional Christmas décor and Chanukah as well as winter holiday themes that envelope all different faiths. For Massage Envy we are usually contracted for Valentine's day holidays as it promotes sales of romantic gifts.
We do airbrushed window painting for other holidays and celebrations too: St. Paddy's day (popular for bars and grills), Easter, Passover, Spring, Summer, & Independence day. Halloween is a great time to boost sales with window painting.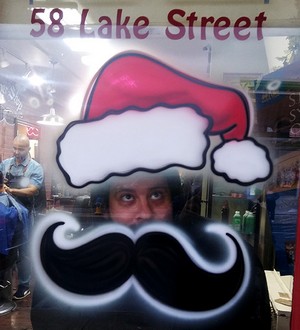 Other Window Painting Applications: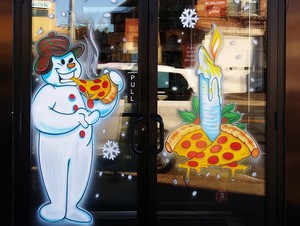 Our window painters airbrush creative designs for sale promotions or signage on glass. This comes in handy for ANY business!
We also offer non-airbrush style window painting similar to traditional window painting with rollers and brush. This is often seen at car lots and fast food chains.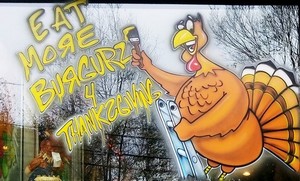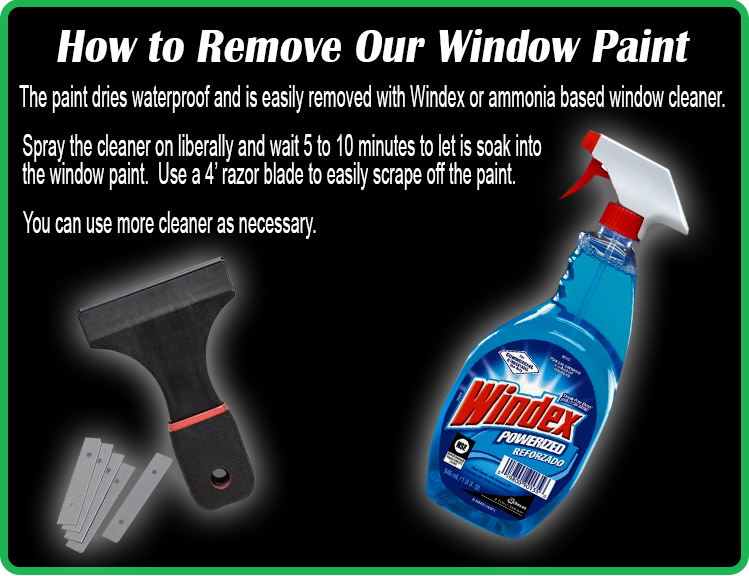 ---
Our Window Painting Gallery
---
Recent Articles
Halloween window painting for businesses has been making a comeback over the last decade, particularly on storefront and restaurant windows in heavily populated areas like New York City. While window painting may seem like an outdated idea when so much can be done with social media marketing, it has always been a proven method of boosting sales.

Window painting never really fell out of fashion, per se. However, as more businesses turned their efforts to marketing via social media networking, this approach fell by the wayside. Now more commercial savvy business owners are making the wise decision to hire a professional airbrush company to take care of their window painting …
If you are looking for experienced airbrushing artists for window painting then please call 914-424-4264 (Justin) or complete our online request form.