Premier Motorcycle Tank Brushing In New York City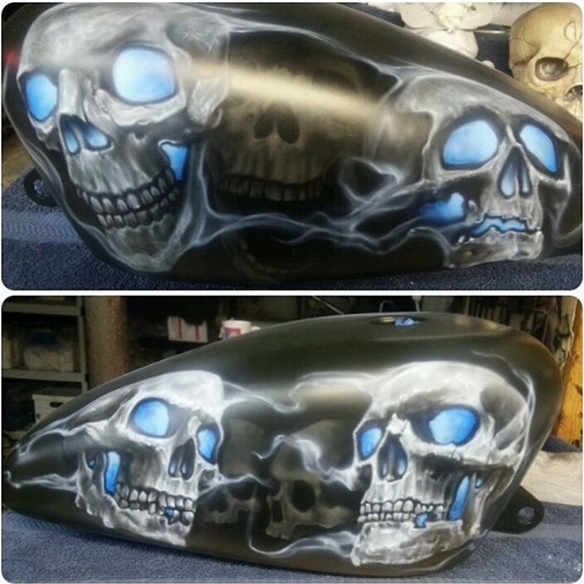 Your bike is more than just a means of transportation. It is a direct reflection of who you are as a person. So when it's time to design your motorcycle tank, why not go all out with airbrushing from Airbrush Everything. We are New York's foremost airbrushing company. With decades of combined industry experience, our artists have designed hundreds of bike tanks and have helped motorcycle owners personalize their bikes in their own unique way. Contact us today and we can help get the right airbrushed design for your bike.
Custom Designs All Your Own
One of the greatest features you'll enjoy with Airbrush Everything is that we provide ultimate flexibility in any number of given situations. You don't have to settle for pre-designed templates. Instead, tell us exactly what you want, and we'll deliver to you in a way that produces that kind of results you'd expect from professionals. We sit down with each of our clients and help you build your airbrushed image from the ground up. This guarantees that we meet all your expectations right down to the finest details. Don't settle for less with anyone else, when you can get exactly what you want with Airbrush Everything.
All Brands of Motorcycles
We offer premier custom airbrush paint for your motorcycle tank on all types of motorcycles including BMW, Harley Davidson, Honda, Kawasaki, Suzuki, Yamaha, and other popular motorcycle brands. We understand that no two motorcycles are alike, and each brand and type has it's own unique style. Our goal is to take your ideas and blend them with you bike in order to create an overall look that is cohesive and matches in perfectly with your particular bike no matter what type of bike you own. Old or New, large or small, we can help you personalize your bike just the way you want it.
Safe Airbrushed Paint For Your Tank
One of the most common questions we get from clients is how the paint will affect the finish of the motorcycle tank. When it comes to airbrush paint, it's important to remember that the paint is applied to the tank surface with the idea that it's going to last a very long time. With this in mind, we use quality paint that will not corrode or damage the tank's finish. You get great work while preserving your tank inside and out.
Go With The Airbrush Pros
At Airbrush Everything, we pride ourselves in being able to deliver the finest airbrush products anywhere in Westchester and Rockland, New York and New Jersey. We carry a full line of great paint colors and tones that perfectly match any motorcycle tank out there. You get fast friendly service with a design that is a reflection of your personal taste and style. We pay attention to every detail of our work and perform every project with absolute precision and care. Contact us today and see why we are the best in the business!
Motorcycle Tank Airbrush Gallery
Experienced Airbrushing Artists Providing Custom Designs
If you are looking for experienced airbrushing for motorcycles then please call 914-424-4264 (Justin) or complete our online request form.