Professional Airbrush Artists in Stamford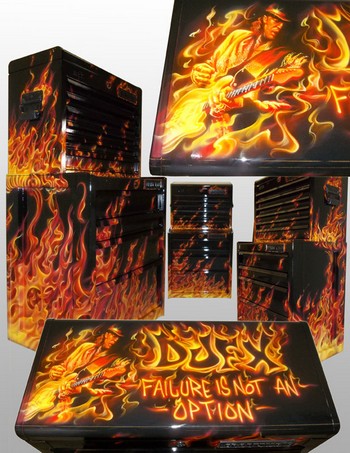 Nothing makes your property stand out or look beautiful quite like personalized art can. If you're looking to give your Stanford that kind of care, you need to call the local airbrushing artists at Airbrush Everything. We can get any kind of property you have looking its best thanks to the many great services we offer:
Wall art and murals
Car and truck airbrushing
Motorcycle tank airbrushing
And more!
Your home, business, vehicles, and the like are among the largest and most important investments you'll make. So, doesn't it sound reasonable that you should give them a touch that's uniquely you? To give your Stanford property that kind of unique look, give our airbrushing experts a call today.
Top-Quality Murals That Will Make Your Business Stand Out
Do you own a business in the Stanford area? If you do, then you've certainly got your hands full. After all, running a business involves all manners of responsibilities, one of the most important of which is trying to find ways to attract new customers.
A great way to bring in new customers is to get your business to stand out. If you want your business to stand out from the crowd, you need to call us about our mural services. With a personalized mural, your business can sport a beautiful, one-of-a-kind look that will draw in the eyes of passersby, helping to make your business boom!
Enjoy Our Vehicle Airbrushing Services
You'll use your personal vehicle every day as you zip about here and there to handle the chores your life throws at you. Of course, your vehicle doesn't need to be a simple utility – something you need and nothing more. It can also be a reflection of your tastes and personality.
If you want to make your vehicle look as uniquely you as it can, you might consider getting some personalized art on it. For that purpose, give our Stanford team a call today. We offer professional car and truck airbrushing work that will make your vehicle stand out.
Experienced Airbrushing Artists Providing Custom Designs
If you are looking for experienced airbrushing artists in Stamford, then please call 914-424-4264 (Justin) or complete our online request form.