5 Myths About Airbrush Events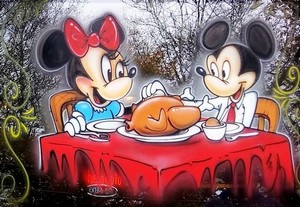 Oftentimes there are huge misconceptions when it comes to hosting an airbrush event. From believing it's only a form of graffiti to thinking it may be plain boring, below are a few myths about airbrush events and the truths behind them.
Airbrushing Is the Same as Graffiti
One huge myth about airbrush art is that it's just a type of graffiti. While graffiti is known to have started off as a movement, it is now an integral part of modern art and fashion. An airbrush's style can be similar to that of graffiti; however, more precise instruments are used in the process.
Graffiti utilizes aerosol cans of paint whereas airbrush art doesn't. Also, in order to airbrush, the airbrushing tool has to be used, hence the name. The airbrush tool itself is the biggest difference when comparing graffiti and airbrushing techniques.
Airbrush Events Are Hard to Clean
Airbrush art is done in more of a controlled environment than people think. Easel stations are utilized which allows the actual airbrush activity to be tidy and neat. Also, paint isn't free flowing when an item is airbrushed. The airbrush tool allows the paint to have a direct approach—so in truth, minimal amounts of paint is used. Other benefits are the ability to fine tune designs as well as being able to host your airbrush event indoors due to lack of fumes. Airbrush paint has no smell, doesn't leave paint residue and is non-toxic.
The Designs Easily Wash Away
The paint used when airbrushing isn't temporary and stays on the items its applied to. Each airbrush item has a special label with particular care instructions. The instructions are easy to understand and involve using a dry iron to heat and seal the designed elements more permanently.
If not done correctly, the color might fade a little, but definitely won't disappear. In fact, your airbrush product will not bleed when washed. Airbrush paint is a bit like the paint used for a home, meaning unless covered with another paint job, it's permanent!
It's Boring
By far one of the biggest misconceptions when it comes to airbrush events is that it'll be boring. Our airbrush artists are trained and have a ton of experience that is great for any event. One of their specialties aside from creating great airbrush designs is making the event fun and entertaining! Most designs take less than 5 minutes to complete and you'll be able to watch the design transform right before your very eyes. In less than a few minutes after being airbrushed, the item is dry and ready to be worn or used. Many attendees wear there newly airbrushed apparel right at the event!
Only Kids Would Enjoy It
Another myth about airbrushing events is that they are only for kids. Great art and merchandise, coupled with fun performances, is entertaining for people of all ages. You will be delighted to see your personal hat or t-shirt being designed and made right in front of you! Additionally, the crowds we see at company events are often wilder and more excited about airbrushing than at more kid-friendly events like a birthday party.
Call the airbrush team at Airbrush Everything to schedule an airbrush event at your next party! Not having a party but would still like to know about wall art and mural airbrushing options? We'd love to hear from you, so reach out today.
Experienced Airbrushing Artists Providing Custom Designs
If you are looking for an experienced airbrush artist in New York , then please call 914-424-4264 (Justin) or complete our online request form.