How Airbrushing Can Enhance Your New York Business
If you're a business owner in Westchester and Rockland, New York or Northern New Jersey, you know the value of quality presentation, good advertising, and effective promotion. With the right tools all of these strategies work well and keep customers coming through the door. Every square inch of your property is an opportunity to lead customers in the direction you want to go. Every promotion, therefore, must make a grand statement that is noticed by all the moment they walk through the door. This is why airbrushing is such an effective tool in getting the word out about what you're business is doing.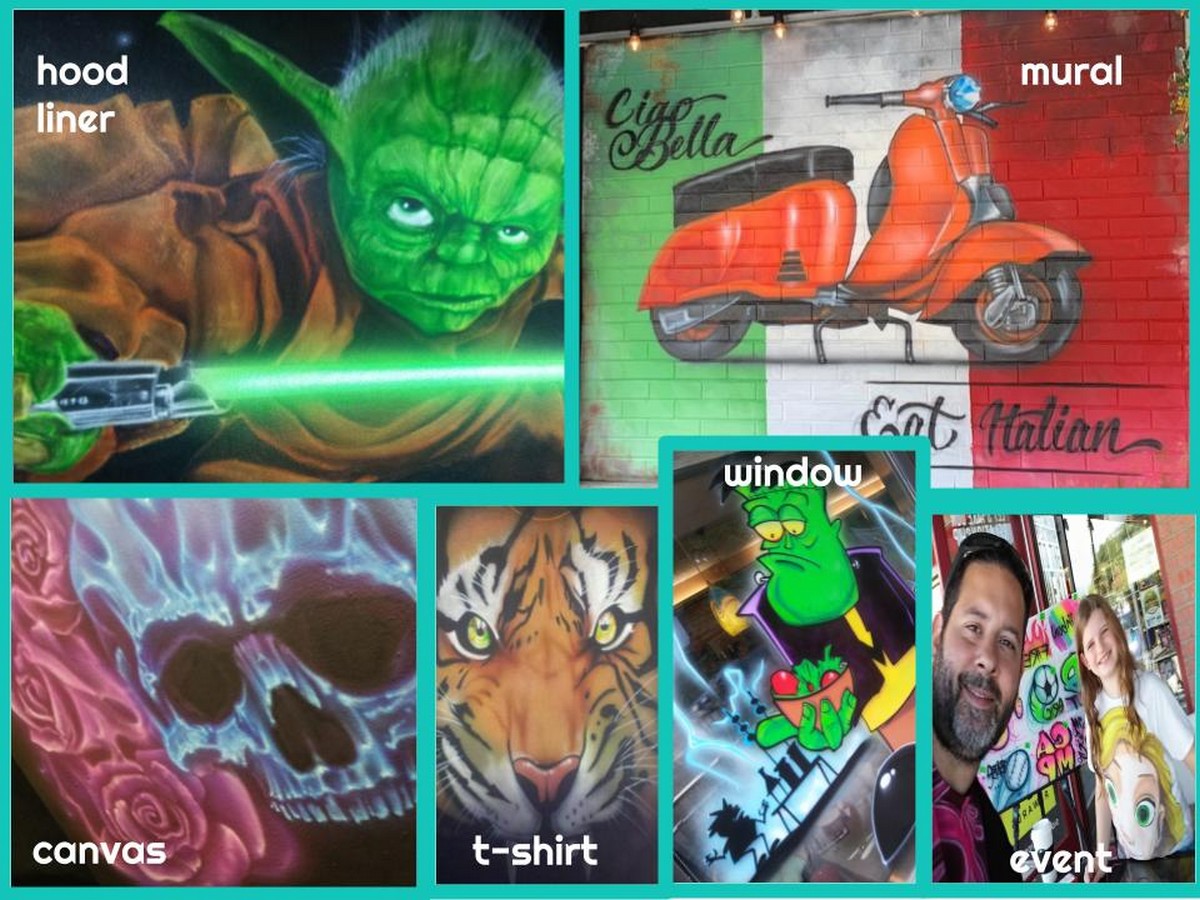 Hover
Remove The Stigma
Whenever we talk about airbrushing as a powerful tool for advertising, many business owners automatically create the stereotype in their heads of white shirts with flashy lettering and stars. Modern airbrushing, however, has drastically changed, and has become more than just a quick gimmick for a mom and pop store. Professional airbrush companies now utilize state of the art equipment and tools that create astounding works of art with eye-popping effects and heavily detailed images. So forget what you once thought you knew about airbrushing. This allows you to see it as viable form of advertising and promotion for your products.
An Affordable Option
Regardless of what application you'll be using airbrushing for, it's an effective way to get someone's attention without spending hundreds of dollars. Airbrushing can be used for t-shirts, postcards, walls, murals, storefronts, trucks, cars, motorcycles, and even body art. Because of it's flexibility, it's often a much less expensive to traditional forms of promotion. It can be utilized in just minutes and the results are often stunning and extremely effective. You don't have to break the budget in order to get the results that you're looking for.
Placement Is Everything
So let's say you're getting ready to promote your motorcycle dealership and you want to highlight a certain line or brand. You need something that is going to instantly create a buzz. Try airbrushing a key wall or mural in your storefront and you'll instantly see customers walk over. This is because good art naturally attracts people and draws them in. This is the same with signs, banners, and even product placement. Wherever there is an attractive feature in your store, you're sure to draw attention to it.
Completely Customizable on Any Surface
Regardless of what type of business you own, you can easily find an application for airbrushing. With such flexibility, you'll find that it's easy to get any type of design that you can possible imagine. There is no limits to what an experienced airbrush company, like Airbrush Everything, can do. So for you, the client, it's just a matter of sitting down and sharing your ideas and being as specific as possible. This is one of the great benefits of airbrushing. The possibilities are endless. So whether you're into traditional designs with basic lettering and pinstripes or you want to create an entire backdrop scene with complex themes, airbrushing makes it extremely possible.
Experienced Airbrushing Artists Providing Custom Designs
If you are looking for experienced airbrushing artists for your business then please call 914-424-4264 (Justin) or complete our online request form.