4 Reasons Why Your Corporate Event Needs Airbrush Artists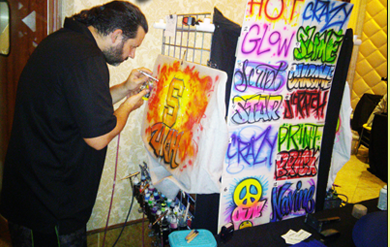 If you have a corporate event on the horizon, you're likely looking for some entertainment, a cool vendor, or just something to give your team a morale boost. While it might not seem like an airbrush event can accomplish all of that, and it actually brings the best of all those ideas to the table. Airbrush events combine the entertainment of an artist creating in front of you, along with a lot of beautiful, personalized merch. To help highlight why it is that an airbrush event can be the perfect entertainment for your upcoming corporate event, our airbrushing experts have taken the time to put together this shortlist.
Entertainment Is Key At Corporate Events
Having the right entertainment is the key to any successful event. The sheer amount of options out there can make it difficult to find one that's both appropriate and enjoyable. Airbrush artists do something that many other forms of entertainers can't: They create art right before you that can be used to decorate your corporate space or worn. Seeing a design come to life in front of your eyes is always a good time.
Airbrushed Swag - Ready in Minutes
One of the main benefits of hiring an airbrush artist for your corporate event is that the incredible designs they create in front of you can be worn just minutes after they're finished. Custom-made airbrush merch dries in a matter of a couple of minutes, so your guests can throw it on right after.
Corporate Ice Breakers
Networking with your coworkers is a great opportunity when it comes to a corporate event. Seeing people all around wearing cool, custom-made hats or other merch can be a great way to break the ice or serve as a conversation lead.
Awesome Corporate Event Souvenirs
Another great reason to have an airbrush artist at your event to design cool, custom items is that they make for the best souvenirs. Employees and other guests will love being able to take home their customized merch and enjoy it for a long time to come.
Experienced Airbrushing Artists Providing Custom Designs
If you are looking for experienced airbrushing artists for your New York or Northern New Jersey business, call the professionals at Airbrush Everything at 914-424-4264 (Justin) or complete our online request form.