Holiday Windows – Not Just For Christmas Anymore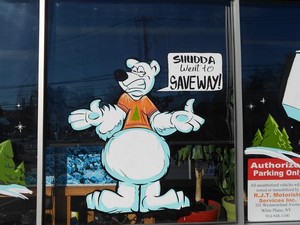 It is true that no other holiday is quite as largely celebrated, or decorated for, as Christmas. In fact, it seems the ongoing trend has been to outdo neighboring homes, or even businesses.
That's why so many commercial clients request our work for their windows around "the" holidays. What people are missing out on is the fact that there are plenty of other special occasions to get festive for, including decorating the front windows with our painting work.
Other Events to Decorate Windows For
Let's face the fact that any business needs to find clever ways to draw attention and hopefully gain more clientele. Most businesses also get a tremendous holiday rush that is a great way to end the year. Unfortunately, what tends to follow is a slow lull in any kind of sales to follow, once the new year begins.
Having your windows painted for other holidays or events can help get a company through dry spells. The emerging trend of going all out for other special occasions can really help your business boom. So consider some of these:
Valentine's Day – What better way to remind potential shoppers you have gifts or dining options for the celebration of love – even if it's just gift cards. Savvy businesses also take this opportunity to appeal to anyone who may be "flying solo" for Valentines. Or, run with a humorous Anti-Valentines campaign or host a speed dating event – but let your windows lure curious customers in!
St. Patrick's Day – That day of the year every single person suddenly becomes Irish. If you sell liquor, Irish wares or anything green, you are bound to snag some shoppers. However, they have to know that you're feeling the Luck of the Irish and all about some Erin go Bragh, and your window can help alert foot traffic.
First Day of Spring – Let's face the fact that even in warmer climates, there is something refreshing about the end of winter. In colder climates it should be truly celebrated. Help spread the spring cheer with a window marking this event.
Mother's Day – What better way to honor moms everywhere than with a full-on window display? Start early so shoppers will check out options that you have for dear mom, before looking elsewhere.
Dads & Grads – June is that time of year when we celebrate Dads for all they do, as well as congratulate high school and college seniors for their graduation. Pick one or the other, or make it a point to celebrate both!
First Day of Summer – What's better than the first day of spring? The first day of summer, of course. School is out, the weather is nice and all those vacations are about to begin, so use these theme for your window art.
Anniversary of Your Business – Whatever time of year marks the anniversary of your business, you deserve to observe this occasion. Plan a fun event, and remind people that you are an established business.
Get The Ultimate Results
Let the Airbrush Everything team provide you with whatever holiday window display theme you want to run with, but remember it doesn't have to just be Christmas. Get your shoppers or dinners in a festive mood, long after the New Year starts. Our special event airbrushing experts can help make that possible with the visual display that will have them taking pictures and checking out your establishment.
Experienced Airbrushing Artists Providing Custom Designs
If you are looking for experienced airbrushing artists for holiday windows then please call 914-424-4264 (Justin) or complete our online request form.