How To Personalize Your Big Rig With Custom Airbrushing Art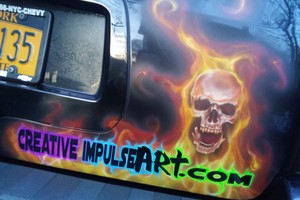 Imagine your New York big rig with long flames of fire rolling off the wheels. When it comes to painting your big rig, only the most realistic image will do. That's where custom airbrushing for trucks comes in.
Truck airbrushing is a specialty service that you can get from expert artists at Airbrush Everything. They offer custom truck airbrushing service in New York, Northern New Jersey, Westchester, Rockland, and the surrounding areas.
3-D Dimensional Airbrush Designs
Most truck painters offer you a two-dimensional, a flat design that looks cartoonish. You didn't become a big rigger to look like a child or you would have just purchased a tricycle. Don't go with a flat 2-D design when you can get a realistic custom airbrush design for your truck. We can even make Wylie Coyote and the Roadrunner look amazing.
Keep in mind that the design will only turn out as good as the artist who is airbrushing your semi. Meet our NY airbrushing experts at Airbrush Everything so you can get an idea of our expertise. We don't just have truck airbrushing experience, we are the local artists who have airbrushed everything you can imagine.
Ideas For Custom Airbrushing Trucks
A true airbrushing artist will be able to take your ideas and make them really special. Whether you have something in mind or not for airbrushing your big rig, they can help you draw out concepts from your mind.
Start thinking about how you want to attract attention with your big rig. Will it business related or for fun? There's no limit to the what we can do with custom airbrushing for your truck.
Experienced Airbrushing Artists Providing Custom Designs
If you are looking for experienced airbrushing artists for truck airbrushing in New York then please call 914-424-4264 (Justin) or complete our online request form.