The Comeback Trend of Commercial Window Painting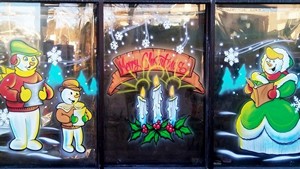 Window painting never really fell out of fashion, per se. However, as more businesses turned their efforts to marketing via social media networking, this approach fell by the wayside.
Now more commercial savvy business owners are making the wise decision to hire a professional airbrush company to take care of their window painting. Putting the focus back on your commercial building and making it stand out can be quite beneficial to your business.
Window Sign Painting & How it Can Help You
So why should you consider hiring a professional to paint the front window of your New York area business?
This creative approach to getting attention has been proven to increase sales. That's because it helps to promote brand recognition and even boosts word-of-mouth promotion.
It's more cost-effective than a lot of other methods of advertising, partly because it lasts much longer than a print ad that runs for a day or a social media ad that runs maybe a week, at the most.
While social media ads can do a lot for a business, potential customers can also simply keep scrolling. With a window ad like this, you basically have their undivided attention.
This approach can greatly help a small business get noticed, especially if you have limited street frontage. It also helps create a clear separation between your business and other businesses around you.
You can convey useful information about your store, a sale, for instance. So, you catch your customers' eyes but also provide them with information that can help to lure them in.
Other signage requires permission or even a permit; painting your own windows doesn't.
Even if you don't normally like the big splashes of color or cartoon-like characters, you can find a more refined way to paint your window. This big open space is there for you and ready to advertise your business, you just need to call in a pro to handle the job for you.
Call Airbrush Everything and let us help you get started with a creative New York window painting piece to attract attention and, ultimately, more business.
Experienced Airbrushing Artists Providing Custom Designs
If you are looking for experienced airbrushing artists for window painting then please call then please call 914-424-4264 (Justin) or complete our online request form.